Master Day Biology
27th November 2021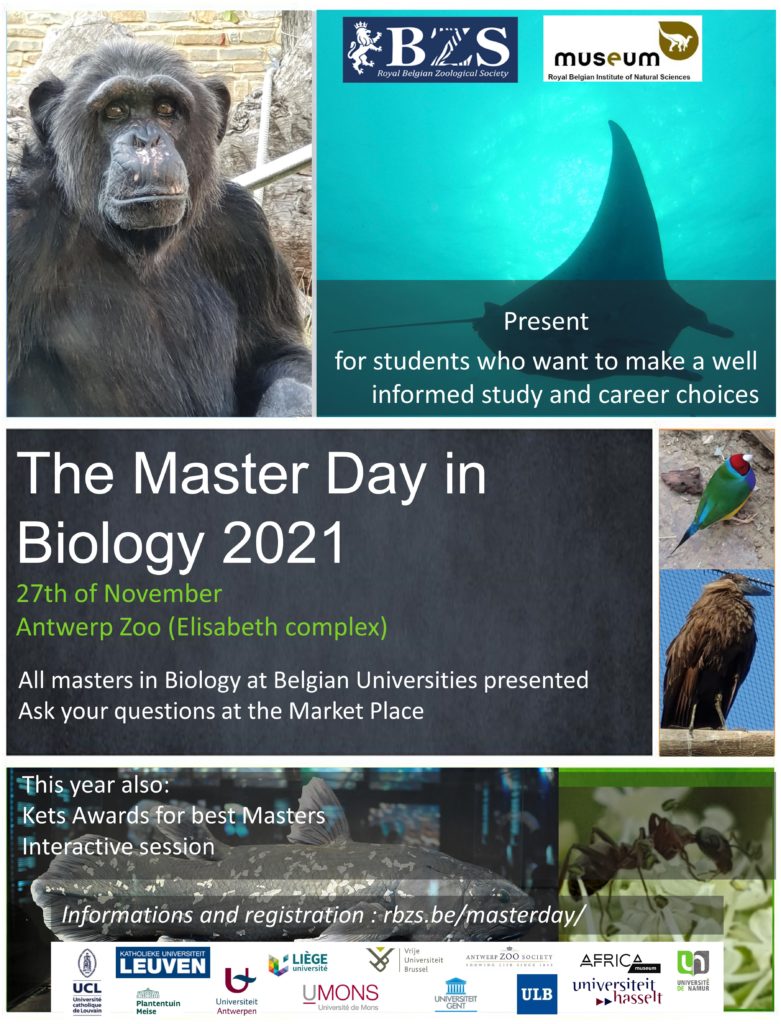 This year, the Royal Belgian Zoological Society is very happy to announce the organisation of the Master Day Biology 2021 event. This 11th edition of the National Master Day in Biology will take place in the Antwerp Zoo (Elisabeth complex) on the 27th of November 2021.
It is a unique opportunity, for students, to keep updated on the Biology Masters accessible in all Belgian universities and be well informed about the study programs and future career opportunities!
In addition, the event will host the Jacques Kets Zoology Award finals where five shortlisted candidates will be invited to give an oral presentation of their master thesis work (in English). All students attending the event will then have the opportunity to discover fascinating lines of research and vote for their favorite master thesis among the candidates.
The event is free and accessible for all students interested in a Master in Biology but registration for participation is required: click here
The Zoo entrance is free for all members of the Royal Belgian Zoological Society, so feel free to register to the society before the event (no possible registration during the event) : link here
When: Saturday, 27th of November 2021 – from 10 am to 16:45 pm.
Where:Antwerp Zoo, Elisabeth complex located at "Carnotstraat 4, 2060 Antwerpen".
****
Considering the COVID situation, each participant (students and university representatives) will have to present ­­a Covid Safe Ticket (and ID confirmation) and to wear the mask to access the event (CST+). Due to Covid, the registration will not be possible during the event. If you have not yet registered, you can still do so by e-mail until today 10 pm (26th November 2021, 10 pm) (via jerome.delroisse@umons.ac.be).
****
For more information, please contact Jerome.Delroisse@umons.ac.be or Philippe.helsen@kmda.org
Hope to see you soon,
The organizing committee
---
Partners universities and special masters
UMONS, KULeuven, UCLouvain, VUB, ULB, UNamur, UGent, ULiege, UAntwerpen, Oceans & Lakes, Tropimundo, Nematology, IMBRSea
---
Program

From 9:00: For University representers, poster/panel installation
From 10:00: For Students, registration desk opening
10:15-10:30: Welcome words from the Society & General introduction of all Belgian Biology masters by a representative of the Society (Prof. Frédéric Silvestre, Dr. Jérôme Delroisse, Mr. Lucas Mergan)
10:30-11:45: 5 min flash presentations of all universities/special masters
11.45-12.00: Short break
12.00-13:00: Kets Prize – introduction by Dr Philippe Helsen and presentations from the students (4 selected students, 5 min presentation, questions from the jury)
13:00-14.15 Lunchtime (opportunity to visit the zoo or have a look at the University/master posters)
14.15-14.30: Kets Prize winner ceremony
14.30-15.30: Poster session for all universities and special masters
15.30-16.45: Free time to visit the Zoo! (Free entrance for Society Members)