Master Day Biology
16th November 2019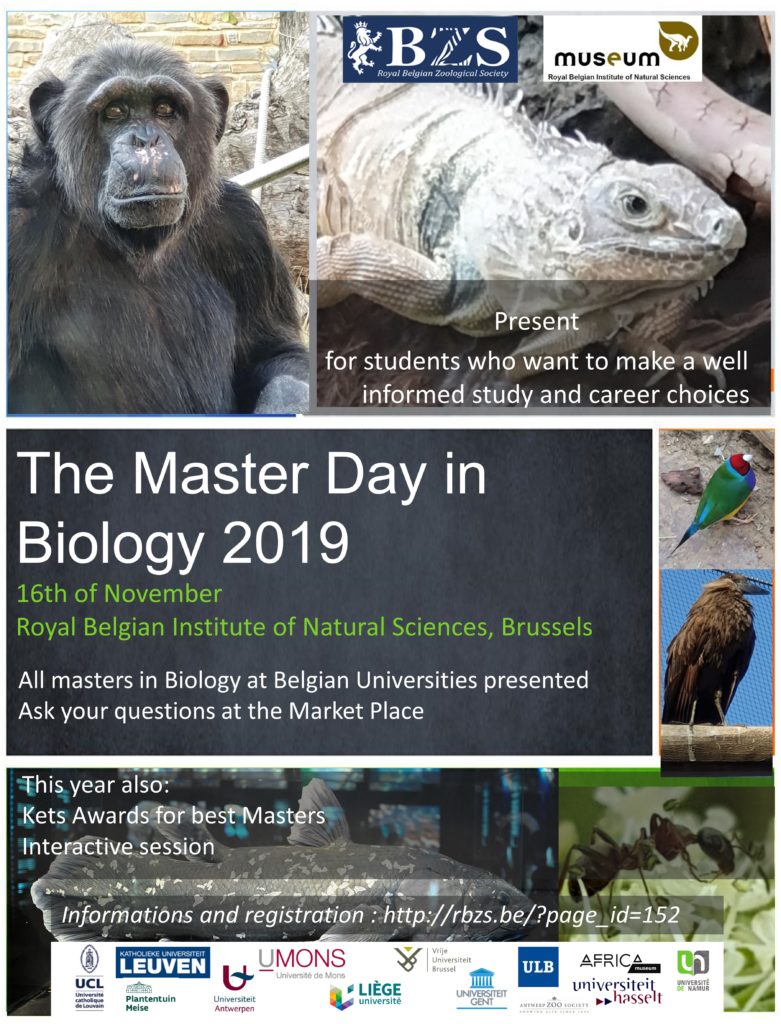 This 10th edition of the National Master Day in Biology will take you on an interesting journey along all Belgian Universities that organize one or several masters in Biology (and there might be more of them than you would expect). Organizing this free event, the Royal Belgian Society of Zoology, in collaboration with the Royal Belgian Institute for Natural Sciences, aims to provide future master in Biology students all information need to make a well informed study and as such future career choice.
Registration for participation is required: click here
This year's master day will take place on Saturday, November 16th 2019. Place to be is the Royal Belgian Institute for Natural Sciences in Brussels (also known as the "dino museum") which is located at: Vautierstraat 29, 1000 Brussels (for more information on how to get to the museum).
Program
10.00h: Start, registration desk opened by Dr. Patricia Mergen
10.15h: General introduction of all Belgian masters by prof. Frédéric Silvestre and prof. Liesbet Temmerman
10.45h: Kets Prize intro by Dr. Philippe Helsen and Kets presenters
11.45h: Panel discussion with representatives of the universities and special masters moderated by prof. Ellen Decaestecker and prof. Bram Van Schoenwinkel
12.15h: Kets Prize winner ceremony
Afterwards direction to boots until 15h
PDF versions of this year's presentation will be availabe soon after this event (according announced to presentation order).
For more information, please contact Philippe.helsen@kmda.org or frederic.silvestre@unamur.be or liesbet.temmerman@kuleuven.be or ellen.decaestecker@kuleuven.be or patricia.mergen@africamuseum.be or bruno.frederich@uliege.be or Bram.Jasper.Vanschoenwinkel@vub.be
Hope to see you soon,
The organizing committee